2016.10.05
Pretty slow all around. I managed to get the remote control unit installed to allow wireless locking and unlocking of my daughter's car via key fob. Despite the 2000+ wires on the unit that allows it to tie into just every light/horn on the car, I am unable to use any of them due to the Kia's CANBUS system. My daughter was surprisingly OK with the fact that she would not have any indicators (horn, head/parking lights) that the car was locked or unlocked. I'm still in the progress of tracking down any wiring schematics to figure something out.

We had heavy rains a couple of weeks ago that managed to cause some minor flooding in my area. Some water managed to make its way into one of my 300's fog lights resulting in the shorting of a couple of LEDs in the halo ring. This would be the third ring to get ruined by water seepage despite every effort to seal the fog lights. I ordered a new pair of halo rings and have been testing ways to absolutely water proof the rings in addition to the fog lights. After some testing, it appears that Star Brite clear liquid electric tape seems to be the best bet as I can run them fully submerged in water.

Work wise, I've just started working on implementing service monitoring of the Telcom equipment into our existing network monitoring system. This entails SNMP probing various equipment and decoding return strings and in turn, sending a more specific alarm to on-call personnel. Telco on-call staff currently just receive either a major or minor alarm and it's up to them to log into the suspect equipment to determine the issue. I'll admit, this is part of the job I really enjoy.
2016.08.18
Second update in a month, it canít be. A lot going on project wise, mostly house stuff, but I do have a big update to my MAME Arcade cabinet. Iíve been trying to keep up with the MAME software updates over the past several years, but fell behind after version 0.168 due to lack of updates to the FreeBSD mame port. I was able to ďengineerĒ patches to get up to a working version 0.171, but it ran horrendously. As of this post, the current MAME version is 0.176, but I have been unable to compile it from ports or source. My biggest hurdle is mostly myself and the lack of more advance C programming and a little bit of GCC vs CLANG/LLVM in FreeBSD.

So, after a lot of deliberation, I decided that my course of action was to move away from FreeBSD to Arch Linux. Of all of the Linux distributions, Arch seemed to be the best fit for this application and despite the dreaded systemd startup, it has been a pretty easy transition. I am able to compile current versions of MAME without issue and the cabinet runs flawlessly. I will attribute the ease of the transition to the Australian BOAC site AussieArcade, and user "ozfalcon" Z-System post . Without this excellent write-up, Iíd probably still be figuring it all out.

Make no mistake, FreeBSD is still my first choice of operating systems, but not every OS will solve every problem. Maybe in the future, I can return back to FreeBSD for the MAME cabinet. Of course, It would still be kinda cool to see a Linux distribution that is layed out identically to FreeBSD.
2016.08.11
When we purchased the 2012 Kia Forte back in February, I mentioned that the girl was complaining about the lack of power locks. When we got back from the Ireland trip, I ended up purchasing a kit from A1 Electric and started working on getting the kit installed. Like most newer model cars, the locks use a cable system instead of the old rod linkage making the install a little bit trickier. I allocated the next couple of Sundays installing the kit, taking each Sunday roughly 3-5 hours per door (rear doors, and passenger front) and then I made a final push this past Monday to get the driverís side door and everything tied together. This last push ended up taking the better part of 7 hours, mostly taking my time figuring out where the wiring was going to terminate. At this point, its mission mostly accomplished. Power locks are installed and to the point where if either of the front doors are locked or unlocked, the other locks will follow suit.

Now for those who caught the mission mostly accomplished statement above, let me clarify. The kit I purchased (W02C-712T) also came with a remote lock controller and FOBs. I didnít have the time to install the controller, as it has the ability to tie into headlights, parking lights, horn, and dome light as notifications, not too mention some 14 other connections. After talking to my daughter, she is (for now) content just having the ability to press the FOB to lock/unlock the doors without any other literal bells and whistles. So, Iím hoping to get the controller wired in within the next week or so.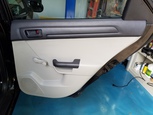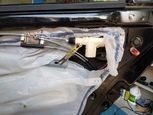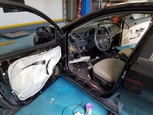 2016.07.01
Got back last week from another Boehmer/Lienhart epic vacation. This time, we spent twelve days in Ireland and North Ireland. We started in Dublin and worked our way clockwise around the country spending nights in Dublin, Cork, Killarney, Galway, Sligo, Bushmills, Antrim, and then back to Dublin. Over 2200km driven, left side of road, left hand manual transmission Minivan. I was surprised how ďAmericanĒ the local pub food menus were, offering the typical burgers/steaks fair with a sporadic listing of lamb and fish. In addition to the beer (mostly HopHouse13, and yes, I did have a Guinness in Dublin), I ate and drank very well on the trip. Weather was just about what you would expect, windy, surprisingly muggy, and damp, though we did have several sunny days.

We saw way too many things to list, but I can include (in no specific order): Cliffs of Mohor, Kerry Cliffs, Giants Causeway, numerous castles/ruins including Blarney (yeah, I admit it, I kissed the stone), Bushmills Distillery (founded in 1066AD), Mizen Head, Gap of Dunloe, and Dublin Zoo.

All in all, a great trip with the extended family.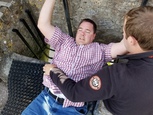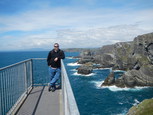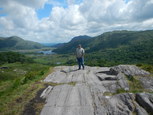 2016.05.30
I finally had some time to replace some badly aging roof rails on the 300 this weekend. I've had them for well over 3 months now and just have not had time to put them in. The job took a little over an hour. I took my time getting the old rails out and cleaning up the left over self-adhesive tape using a plastic trim tool, toothbrush, and lots of acetone. It made for a nice rainy day project in the garage.