On of the biggest complaints with the Chrysler 300 is with the door molding. It has purpose (to protect the door from dings), but its just plain ugly. Fortunately, the molding is secured to the door with just double sided tape, well, *industrial* double sided tape. Now, this doesn't come without risk. After years of being attached to the door, the paint underneath has the potential to bubble up. 2005 models with silver paint reportedly have the most problems, but its been reported on other model years regardless of color. The good news is, that the molding (provided that you take your time in the removal process) can easily be put back if paint underneath is damaged enough to require repainting.

Only a couple of things are needed to remove the molding. I used a can of adhesive remover (Goof Off), a plastic putty knife, a pipet (from my daughter's science kit), some clean soft rags, a bottle of automotive scratch remover (Mequires Scratch X) and a buffer (optional). It also helps to do this on a pretty warm sunny day. Below is a picture of the adhesive remover, putty knife, and a before picture.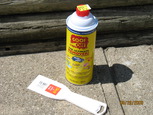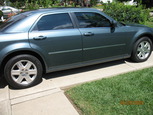 The first step is to use the pipet to drip the adhesive remover in between the door and the molding. I was able to drip some in between and then use the putty knife to lightly pull the molding back just enough to get more adhesive remover in between the door and molding. Let the remover set for about 5-10 minutes and then use the putty knife to gently remove the molding.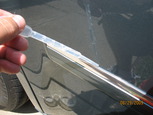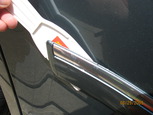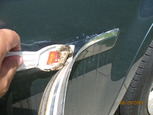 In the first picture below, you can see the faint lines where the molding was. I used Meguiars Scratch X and a buffer to polish the lines out and then followed it up with Meguiars Quick Detailer to give a nice shine. A buffer is not required, the Scratch X works just fine with good ol'fashion elbow grease. As you can see below, the overall appearance with the molding off really gives the car a nice clean shaved look.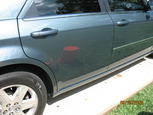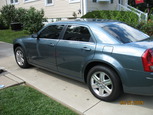 Back to Chrysler Projects