2019.01.11
This past Sunday morning, my nephew's car was dropped off for the brake line repair. I had already ordered the brake line, flaring tool, and connectors, so I was ready to hit the ground running. It took me the better part of four hours to drop the rear cradle. It's always funny (in a non-laughing way) how the easy things are hard and the hard things are easy when it comes to these kinds of repairs. I really thought the exhaust bolts would have to be cut off, but they came off without a hitch. I thought that the speed sensors would just pop right out and I ended spending an hour and a half drilling them out. Hoping to wrap up the repair this weekend so that my 300 doesn't have to spend any more time out in the cold.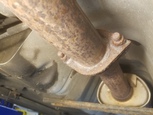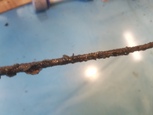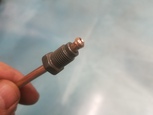 2019.01.04
Happy New Year! I had some time over the holidays to do a write up on one of the projects I was working on as a Christmas present for my in-laws. The project is converting 8mm films to DVD using Wolverine Data's MovieMaker Pro, FFMPEG, and some other tools to author the DVD. The plan was to give my in-laws the MovieMaker and let them do the scanning, but since I made a Christmas DVD from some of the reels, I'm now a designated expert and had been tasked with doing all of the reels. Full write up can be found here.
2018.12.20
I've been working on a couple of projects through work and home. At work, we're in the progress of phasing out our ring of Cisco 7600 and ASR-9000 routers with Cisco ASR-9906 routers. I my time here at work, I've touched the routers just enough to be dangerous doing mostly maintenance and small configuration changes. With the new routers, I've been more hands-on with a ground up build of a redundant 10Ge ring spanning four counties and migrating MPLS links over to the new equipment. It's a bit of a learning curve, but so far, it's been fun.

On the home front, things have been fairly quiet, more so with the holidays coming. I've been dying to document the project I've been working on for my In-Laws Christmas present. I promise I will have a write up shortly after. I can't go more into detail without giving it away.

The 300 has been giving me extra grief lately, but nothing catastrophic. I'm a stickler for maintenance, but one component that I've overlooked/neglected is the PCV valve. It started a couple of weeks ago when I started noticing oil/gas fumes in the cabin, more so in stopped traffic. For a couple of days, I just thought it was another car. As time progressed, it was getting worse and worse, to the point where I was starting to get headaches. After a quick Google search, it was clear that my problem was PCV related. Picked a new part (fairly cheap) up on my way home and broke down the entire connection from engine to catch-can and back to engine. Everything was gunked up so bad that it was forcing the air to out the valve cover vent, thus venting to the cabin air intake.

I've inherited another car repair starting early next year. My nephew's 2007 Hyundai Sonata lost braking (dead pedal) when he was driving home from school in November. My brother-in-law called me up to help figure out what the issue was. We eventually tracked it down to a broken hard-line that runs up into the rear cradle. Since this type of repair is a bit out of my league, I suggested he call around and get some quotes. Turns out the repair will cost between $600-$1000, which is mostly labor as the parts are under $50. After hearing that, I decided I would give it a try. It'll be a little nicer since I'm not time constrained like I am working on the 300.
2018.11.13
At a bit over 12 years old and closing in on 285k miles, the 300 is starting to show it's age. The list of mostly minor issues seems to be growing, though the repair costs are still lower than a car payment. I'm in the progress of fixing various interior lighting issues, either bulbs burnt out or bulb color fading in various modules (headlight and heating/AC controls, analog clock). Main issue with those is getting the OEM color since the bulbs have little rubber covers creating an aqua-marine like color. I had just replaced the inner/outer tie rods over the weekend, only to discover that the steering rack has now developed a small leak (facepalm). I had an alignment done yesterday and when I got the car back, there is something going on with the exhaust that's causing it to be extraordinary loud in the cabin. I suspect the exhaust is resting on the drive shaft cross member, we'll see. My biggest concern is the rust bubbles that are starting to show up in the lower inside of the doors/door jams.

The wife an I had been talking what I'm going to do with the car. It'll be a couple of years before finances would allow me to get a new car, but what to do then? I've amassed a bit of parts inventory and vehicle specific parts and tools, some of which were pretty expensive (StarScan). I'd like to think the car has another several years left in her and I'd be happy just passing the 300k mark. For the most part, I like working on it, but with it being my primary mode of transportation, I'm limited to what work I can do while maintaining the ability to drive to work 5 days a week.
2018.11.09
Looks like 2019 will be another huge year for heavy metal concerts. We've had tickets for Metallica's January 26th concert for a while now, Ozzy Osbourne announced a June concert two weeks ago, followed by Iron Maiden in August this past week. I honestly didn't think it could get any better than 2018: Testament, Megadeth, Ministry, and L.A Guns. I may have to refinance the house just to afford tickets :)
2018.09.10
I spent the past Saturday in the garage replacing an alternator in the 300. It was a nice rainy quiet day working on the car. Other than nearly destroying my arm and hand when the belt tensioner release tool slipped out of my hand (latex glove covered in engine coolant) and a (really) poor decision to not unplug the battery which arced to the block (nearly zapping the car's computer) when I was pulling it out, the replacement went pretty easy.